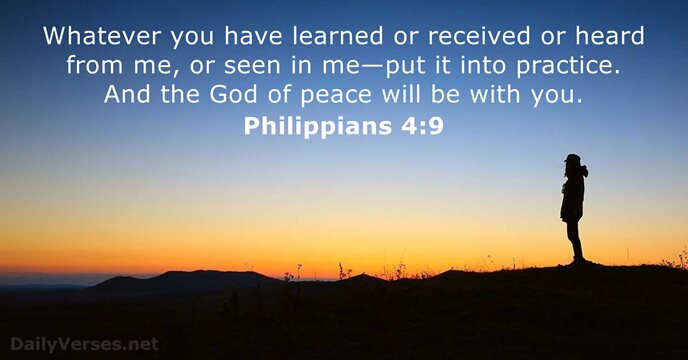 Philippians 4:8-9
8 Finally, brethren, whatever things are true, whatever things are noble, whatever things are just, whatever things are pure, whatever things are lovely, whatever things are of good report, if there is any virtue and if there is anything praiseworthy—meditate on these things. 9 The things which you learned and received and heard and saw in me, these do, and the God of peace will be with you.
Good morning Men and Happy Labor Day. I know that you all work hard and that you do all things as unto the Lord who has given you the strength for the day. Thank you for responding to call of the gospel and working hard to serve your families.
God this morning wanted to remind me that what I see around me is necessary what is true. In our labor and in some cases in our selfishness we get or rather I get caught up in what I see going on around me, even when God tells me in 2 Corinthians 5:7 – that we walk by faith and not by sight.
Men this morning God wants to remind us to focus on these things –
What is True – John 14:6 6Jesus answered, "I am the way and the truth and the life. No one comes to the Father except through me.
What is Noble – Revelation 17:14 –14 These shall make war with the Lamb, and the Lamb shall overcome them: for he is Lord of lords, and King of kings: and they that are with him are called, and chosen, and faithful.
What is Right & Pure – 1 Corinthians 1:30 – 30 But of Him you are in Christ Jesus, who became for us wisdom from God—and righteousness and sanctification and redemption
What is Lovely – 1 John 4:8 8 He who does not love does not know God, for God is love.
What is Admirable – Hebrews 3:3 3 For this One has been counted worthy of more glory than Moses, inasmuch as He who built the house has more honor than the house.
This scripture has brought me more peace in times of despair, uncertainty and frustration than most. Men when I am quick to look upon a situation and think that it is not going the way that I want or it is never going to change. God, My Father reminds me to look to Him and to think about Him. He who knows what I have need of before I can even ask reminds me that He is what I should be meditating on. He is the One that is control and He is the One who is and will provide.
Father, help us today to focus on you and not on our circumstances. I pray that each one of us will take time today to meditate on You and to trust you with everything that we are afraid of, wanting to changed or just can't control for you Father love us beyond measure.